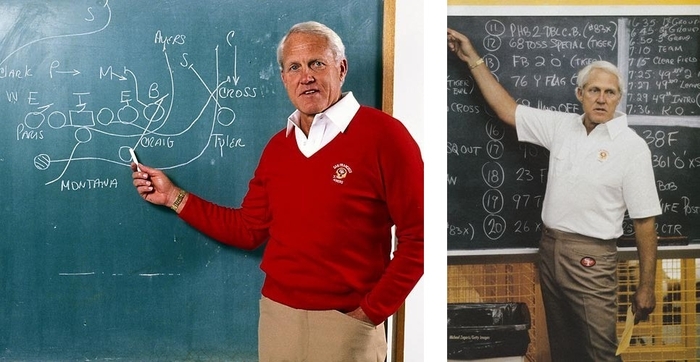 Jerry Rice is known for two things: being recognized as one of the top NFL players of all time, and having been consistently undervalued in the early years of his career, dating all the way back to his high school days. Although Rice has enjoyed an incredibly successful 20-year pro football career, it was the diversity recruiting efforts of Bill Walsh that opened that door for Rice in the first place.
Overlooked and Underrated
The story of Rice joining his high school football team as an alternative to punishment for cutting class has by now become urban legend. What's not discussed as often is what happened in between that initial recruitment and his official draft to the NFL several years later.
Rice played outstandingly throughout high school, gaining an All-State nod for his efforts. Yet, there wasn't one Division I college that thought Rice was worth a scholarship offer. Instead, it was a traditional HBCU and Division I-AA school, Mississippi Valley State University, that was the only school to actually send a scout out to watch Rice's game.
This pattern repeated itself at MVSU: Rice and his teammate, Willie Totten, broke a number of NCAA records in the spread defense; Rice was named first-team Division I-AA All America. As a senior, he even broke some of his own records from the preceding years. While this performance did place Rice on the radar of some major NFL scouts, his slow speed cut off serious recruiting efforts before the pass... that is, until Bill Walsh caught a tape of Rice's game highlights on the news one night. Walsh then actively wooed Rice, bringing him on to join the San Francisco 49ers and the rest, as they say, is history.
Looking Beyond the Norm
Although Rice was named NFC Offensive Rookie of the Year in 1985, he freely admitted that he was never the fastest or the most physical receiver in the NFL during his Pro Football Hall of Fame acceptance speech. Yet, his career highlights more than justified Walsh's instincts in recruiting him: Rice is the NFL record holder in total touchdowns, career receptions, career receiving yards and career touchdown receptions, along with a long list of additional records, awards and recognitions. He was inducted into the Pro Football Hall of Fame the very first year he was eligible.
By taking a young player from an HBCU seriously, Walsh provided the perfect example of how diversity recruiting can pay off big time. Rice, while talented, had decidedly non-standard qualifications at the time of his recruitment, yet Walsh used those unique gifts to build one of the strongest lineups in NFL history.
Similarly, companies that look beyond the norms of candidacy to seeing potential in those of different capabilities and from different backgrounds position themselves to create a diverse workforce that can become just as responsive and leave behind a legacy that's just as legendary as the years of the 49ers and Jerry Rice under the management of Bill Walsh.
Posted By: Will Moss
Thursday, January 1st 2015 at 11:57PM
You can also
click here to view all posts by this author...