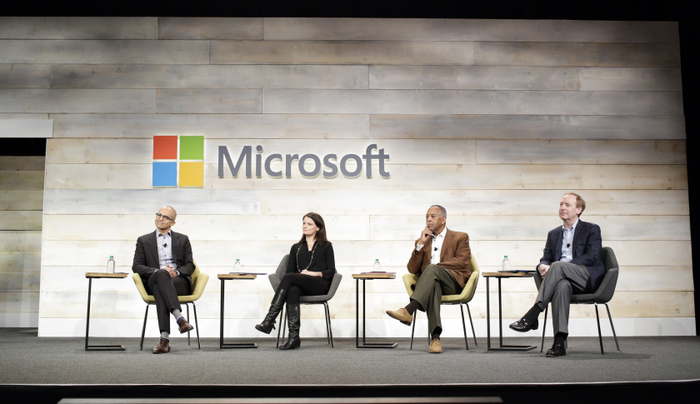 Microsoft is the latest tech company to release its diversity numbers. Here's how the tech giant compares.
Microsoft's CEO Satya Nadella kept his promise and released the tech giant's federally-mandated diversity numbers to public scrutiny.
In mid-December, Microsoft MSFT -0.93% quietly released its EEO-1 form, a federal filing that outlines employment data by race and gender according to job type. While Microsoft has diversity in its highest ranks, including an African-American board chairman, an Indian CEO and a female CFO, the overall statistics are less flattering: the company is 60.6% white and 71% male, according to its EEO-1 form.
Under the Civil Rights Act of 1964, every company is required to file file an EEO-1 form, listing employment data by race/ethnicity, gender and job category. The federal government is prohibited from making any of the compliance surveys public.
A host of tech companies have revealed their diversity numbers in the last year, although some big name firms have remained stubbornly silent, including Amazon AMZN -2.05% , IBM IBM -1.57% and Oracle ORCL -1.40% .
At Microsoft's annual meeting on Dec. 3, Nadella vowed to publicize EEO-1 numbers after Rev. Jesse Jackson called on the tech industry to improve its diversity. Microsoft had released only certain diversity data points since 2006.
So, how does Microsoft compare to other tech companies?
Fortune.com examined the data released so far, which includes 10 tech companies' federal EEO-1 filings, some company blog posts and annual corporate reports. That means there could be slight differences to how the information was collected and categorized. It's not an entirely parallel comparison, but it does provide some insights.
Here's how Microsoft stacks up.
Full Article:
http://fortune.com/2015/01/05/microsoft-ee...
Posted By: Will Moss
Monday, January 5th 2015 at 6:26PM
You can also
click here to view all posts by this author...