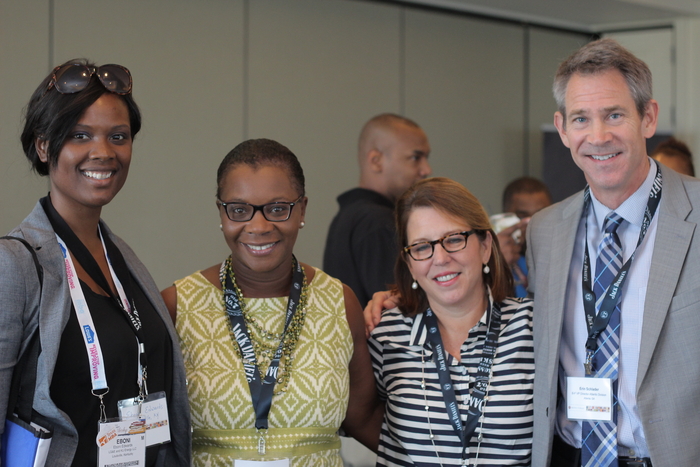 Brown-Forman and HBCUConnect.com event sees high caliber talent, great opportunities
COLUMBUS, Ohio – HBCUConnect.com, America's original online network for community engagement and professional connections for alumni of the nation's Historically Black Colleges and Universities (HBCUs), recently partnered with beverage giant Brown-Forman for a hugely successful professional networking event in conjunction with the 2014 National Black MBA Association conference in Atlanta. Brown-Forman, one of the largest American-owned spirits and wine companies and makers of legacy brands Jack Daniel's and Southern Comfort among others, provided wines and signature drinks created from its extensive beverage lines.
Despite competing with multiple other events held during the same window, the HBCU Connect and Brown-Forman event was a hugely successful opportunity for some of the country's most distinguished African American professionals to interact with a team of recruiters excited to share opportunities at Brown-Forman as well as its commitment to a diverse workplace.
"With a deep commitment to the exciting array of passions and perspectives that they know come from having a diverse workforce, Brown-Forman is a shining example of an American brand with a truly American mindset," says Will Moss, HBCU Connect's CEO. "Companies that make a real commitment to building the best possible workplace by actively pursuing talent from a variety of backgrounds are the future of American business. We are proud to partner with Brown-Forman to offer such a great opportunity for our members."
The reception, held at downtown Atlanta's Commerce Club, offered HBCU Connect members and guests ample opportunities to enjoy Brown-Forman signature beverages and hors d'oeuvres while meeting fellow successful black professionals and representatives from the spirits giant. In addition to a business card drawing for a new iPad, Brown-Forman vice president Erin Schlader shared remarks and introduced her colleagues in attendance, which included Danielle Goodson, Brown-Forman's state manager for Georgia, and Tammye Henderson of its diversity and inclusion office.
The opportunity to connect with representatives of Brown-Forman's diversity and inclusion office was especially valuable for event attendees since the company's stance on diversity is rather deep and all encompassing. Ralph de Chabert, Brown-Forman's chief diversity officer, states on the company website: "We believe that a sense of community enhances our ability to attract, retain, and develop diverse talent and ideas as a source of competitive business advantage."
This event was orchestrated and hosted by HBCU Connect in conjunction with Brown-Forman's office of diversity and inclusion. This is the first such partnership between HBCU Connect and Brown-Forman, though HBCU Connect has hosted a number of previous networking events in alliance with firms as large as Microsoft. For event photos and further information, visit www.facebook.com/hbcufans.
Brown-Forman, based in Louisville, Kentucky and founded in 1870, is one of the largest American-owned companies in the spirits and wine sector. With a demonstrable commitment to building and nurturing a diverse and inclusive workplace, Brown-Forman produces well-known brands such as Korbel California Champagnes, Fetzer wines and Finlandia Vodka.
HBCU Connect and its website HBCU Connect.com were created to help current students and alumni of America's HBCUs to connect with both each other and with scholarships, internships and career opportunities.
For more information, (press and client inquiries only): Will Moss at HBCU CONNECT, 614-416-5515. For general site information, visit: www.HBCU Connect.com.
# # # # #
Posted By: Will Moss
Tuesday, January 13th 2015 at 8:07PM
You can also
click here to view all posts by this author...