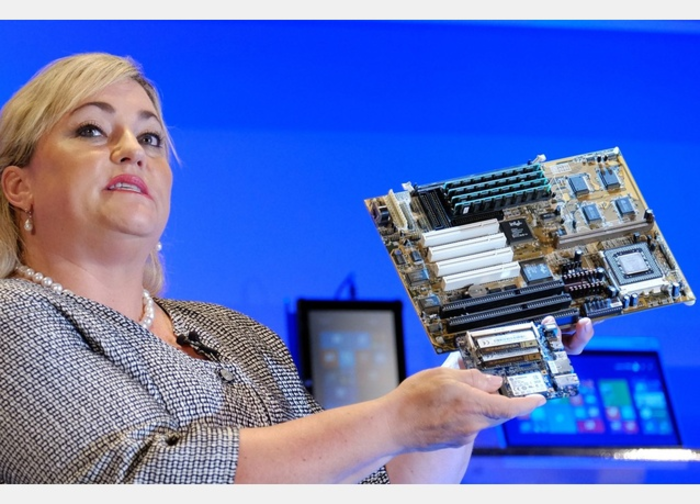 Intel president Renée James is building a pipeline of female and other groups of underrepresented engineers and computer scientists.
Amidst the barrage of new TVs and connected fitness trackers unveiled at last week's Consumer Electronics Show (CES) in Las Vegas came a surprising announcement from chipmaker Intel: a $300 million investment in training and recruiting female and other groups of under-represented computer scientists.
"A confluence of industry events has brought [the lack of women and minorities in technology] to the center stage, from the threats and harassment that have characterized the debate in the gaming world to the publication of hiring data and diversity statistics in the tech industry," Intel CEO Brian Krzanich told the audience during his keynote address at CES. "This is a highly relevant issue and one that we all need to address. I'm here to say tonight, it's time to step up and do more. It's not good enough to say we value diversity and then have our workplaces and our industry not reflect the full availability and talent pool of women and underrepresented minorities."
"We looked at our numbers and said, 'look, we're not bad but the problem is we're not good enough,'" James said in a phone interview with Fortune after last week's announcement. "We were spending a lot of money just to stay flat, and we were attracting a lot of talent and also losing a lot of talent."
Intel's plan, says James, is to use the money to help build a pipeline of female and underrepresented engineers and computer scientists. That includes funding programs that teach STEM (science, technology, engineering and mathematics) to young people in underserved areas, collaborating with higher education institutions, investing in women and minority-owned companies and creating bolder hiring and retention incentives and programs to encourage diversity within Intel. The goal? To achieve "full representation" of women and minorities by 2020—a.k.a. employ a workforce that is more representative of actual demographics.
"We have had people in place doing these things for a long time but we're going to amp it up and we've made super aggressive goals," said James.
Another change James hopes to set in motion is to get the tech industry working together on some of these initiatives. Other companies, like Apple, have similar aspirations. But, at least publicly, it doesn't look like many technology companies have formed any large-scale collaborations to tackle the lack of diversity in Silicon Valley. And despite the increasing number of companies choosing to reveal their diversity numbers via annual reports, there hasn't been much—if any—improvement in recent years. Still, James is convinced that the increased transparency (and more importantly the money now being set aside and tech companies working together) will have an impact.
"We decided to go public because we feel like this needs to be broader than Intel," said James. "We need to get others on board so we really meet the objectives in the next five years."
Over the next few months, James and Rosalind Hudnell, Intel's chief diversity officer, will not only figure out how to collaborate with other tech companies but also formalize the team that will be working on Intel's own Diversity in Technology initiative. They will also determine which organizations they will partner with to help build out the pipeline of women and minorities with tech-job skills.
For now, James says she is excited that the efforts are finally getting a voice—even if it is at CES (normally a launchpad for high-end refrigerators and new smartwatches, not for initiatives that hope to improve the lack of diversity in tech).
"I wasn't sure that CES was the right venue for this and then we decided there really wasn't a right venue," said James. "I didn't know if it [CES] was the right place to talk about it. But it's a big stage."
Posted By: Stacie Coulter
Wednesday, January 14th 2015 at 1:46PM
You can also
click here to view all posts by this author...