Maxine Williams is very visible on the Facebook campus. And not just because she's one of the few black people working here.
With its ambitions encircling the globe, diversity has become a top priority at the giant social network. As global head of diversity, Williams is the one charged with making Facebook's workforce better reflect the demographics of its users.
Like most major high-tech companies in Silicon Valley, the giant social network is mostly staffed by white and Asian men. Yet Facebook users are predominantly women and span every race and ethnicity. Most of the more than 1.3 billion users are not even in North America.
That means Facebook must tap a variety of perspectives, experiences and backgrounds, Williams said in an interview.
"For Facebook, diversity is imperative to our future growth," she said. "If we don't get it right, we risk losing relevance in an incredibly diverse world."
Facebook began owning up to its diversity problem last year.
In 2014, leading technology companies released data showing they vastly underemploy African-Americans, Hispanics and women.
Technology companies are mainly staffed by men. African-Americans and Hispanics make up 5% of the companies' workforces compared with 14% nationally.
That's a serious challenge for the high-tech industry. Whites are expected to become a minority in the USA by 2044, and Latino and African-American buying power is on the rise.
Intel last week pledged $300 million to the hiring and retention of women and underrepresented minorities, the largest investment yet in a diversity initiative by a technology company.
Though Facebook caters to a broad cross-section of consumers, it employs few blacks and Hispanics.
2% of U.S. Facebook workers are black
Four percent of Facebook's workers in the U.S. are Hispanic, 2% are black.Fewer than a third of its workers around the world are women.
To attract more blacks and Hispanics, Williams says Facebook is trying to make it known "that we want you."
Facebook is supporting programs such as YesWeCode and Code2040 that are trying to grow the ranks of minorities in high-tech. It has been working with students and the administrations of historically black universities and colleges.
And it has initiatives to recruit more underrepresented minorities including Facebook University, an internship program for college freshmen interested in computer science, and Facebook Academy, a summer internship program for Bay Area high school students from underserved communities.
"When you come from an underrepresented group that has often felt excluded, you have to overcome some distrust," Williams said. "It is our job…to show people we really mean it when we say we want the best talent."
That's how Facebook executives persuaded Williams to join the company.
Williams, a native of Trinidad, said she was looking for a new challenge after running the diversity program at a major U.S. law firm. She asked white male executives at Facebook why they cared about diversity.
They told her: "Facebook needs a broader range of perspectives to make this place as diverse as possible. Next year we have to look very different from what we look like now."
She says she was swayed by their commitment and the potential to address the racial and gender gap in the tech industry on such a large scale.
"If you did it right, I didn't think you would just change a company, but you could change an industry and you could change the world," Williams said.
Born in Trinidad, one of three children raised by a single mother, Williams remembers covering her head with a pillow to muffle the melodies of a small pan band so she could fall sleep during Carnival season.
She says she was always a seeker, not a settler, and was eager to set out and explore the world. So she applied to a "reach" school: Yale University.
When the interview with an alumnus fell flat, she tried a "ting" to find common ground. "Just try a ting!" on Trinidad means: assume there is no limit to what you can achieve.
Williams asked the Yale alumnus who ran a euthanasia research institute about his work. Soon they were deep in conversation about the ethics of intentionally ending life.
When she was wait-listed at Yale, Williams tried another "ting." She borrowed a video recorder, set up a tripod and made a VHS tape of what a great addition she would be to Yale. She was accepted.
At Yale, she created her own major in Carribean studies, then studied law at Oxford University as a Rhodes Scholar. She practiced law in Trinidad and taught law at the University of the West Indies.
She continued to roam professionally, trying her hand at being an on-air commentator, an actress and a human rights coordinator — all while working as an attorney.
Some thought she was spreading herself too thin. She says she thought of it as gaining a diversity of experience.
In 2006, she took a job creating a more diverse work culture for White & Case. The international law firm that trailed in representation of women and minorities became a diversity trailblazer.
Changing a company from the inside out
Williams joined Facebook in 2013 with buy-in from the top.
Facebook CEO Mark Zuckerberg and Chief Operating Officer Sheryl Sandberg are both publicly supportive of her diversity efforts. And they have handed her significant responsibility.
Williams takes the stage at all-hands meetings, makes presentations to new hires and leads diversity hackathons.
Her team weighs in on some product decisions, such as the introduction of custom gender, which lets Facebook users identify themselves as transgender or transs*xual, among many options.
"I think what is going to make the difference between companies that get it right and those that stay stuck are those companies that have a culture where everyone is interested and invested in (diversity)," Williams said.
Asked why diversity matters to her, Williams answers in a very personal way.
She recalls being told she could not join her brother's cricket club in Trinidad because she was a girl, being told as an immigrant speaking out against injustice "if you don't like it, go back to where you came from" and being evicted from her apartment because of the color of her skin.
"I know and care deeply about the difference which opportunity and diversity make to the quality of what we can produce together," Williams said. "It is an honor and a blessing to work on leveraging the power of diversity every day."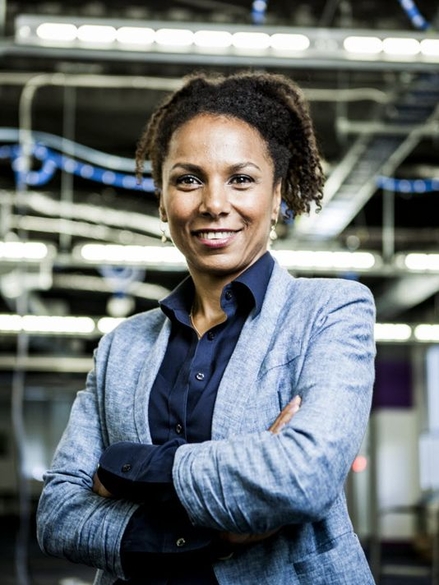 Posted By: Will Moss
Wednesday, January 21st 2015 at 12:51PM
You can also
click here to view all posts by this author...